Are you too shy for seduction ? Discover how to get over it !
Last Update : July 13, 2016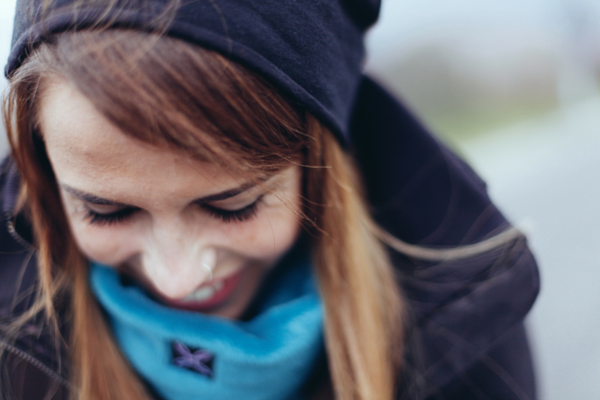 Being shy is a very common characteristic, although some people really suffer from it as it can sometimes build walls between them and their lives.
Almost everybody experiences shyness at some point of their lives, but it is very important to remember that even the most extroverted people also fear from rejection.
If you think your shyness is getting in the way with your romantic life, we have summed up a couple of advices from Zoosk's expert Joan Actually to help you confront your shyness in the best way possible.
#1 Embrace your shy side
The struggle of being shy is more common that you might think it is and it can really affect every single aspect of your life. When trying to flirt being shy can be a real problem as your own shyness can get mixed with the fear for rejection : two elements that will make you want to stay home !
Dating websites are a great way to start to build your confidence and confront your shyness when flirting. Zoosk's expert, through her series of flirting videos advices, helps people to embrace their shy side. Indeed, it's actually worse to pretend to be somebody you are not than actually accepting and embracing how you are. Being shy it's an important part of your personality. Accept it.
Joan Actually recommends to « gravitate towards » people that really appreciate listening skills and don't forget that being shy can also give you an aura of mystery. A very attractive characteristic for lots of people !
#2 Single people like to be surrounded by singles
Rejection is a fear that we have all felt or feared. It is perfectly normal to feel a bit nervous before approaching other people but as Zoosk's resident dating expert says, rejection is not enough of a reason to miss opportunities.
Indeed, single people like to be surrounded by other singles, and they like to talk to singles, so don't fear rejection and just go for it. You never know, you could end up with a very nice friendship or even a passionate romance.
#3 Learn to manage how rejection affects you
Rejection. A word that gives us all nightmares.
Rejection does happen to all of us and it is quite normal. Rejection can happen for a million of reasons and most of them are probably out of your control and even not even related to your persona. So the best thing you can do is to learn how to deal with it and to control how it affect you. Don't dramatize and don't overreact. If you try hard enough you'll be able to overcome rejection and embrace your shyness to create an explosive cocktail to impress and seduce people with your mystery.